Online Check Weighing System
Customer
Nokia India Pvt Limited-Chennai
Product
Mobile phone
Applications
Shipper Weighing

Process Weighing
and Scanning – 2 Stage

Packed Mobile phones are weighed , only to know all accessories are in the box as per the packing list.
They are also scanned for IMEI No to trace details mobile phone with shippers
Challenge
1. MIS report:: Keeping track of thousands of phones with model/ accessory and EMIE details was difficult with out a proper system. More so when Nokia had to complete 5 Million dispatch 2010-2011
2. Cost Over heads : Entire process was in 2 stages - Weighing and Scanning Maintaining 2 manpower /line creates overhead and strain on dispatch team.
Solution
Essae - Total Weighing solution - " Scan while Weigh" Utilize scales with scanner which also communicates with Nokia CW aplication SW
Benefits
Speed of Process increased by 3 seconds
Return On Invest : 1 person for scan & weigh as against 2 –
Value addition : Product traceability and tracking
Target Customers
Manufacturers of Mobile phones, Electronic Gadgets , Packaging any packed Box with a Bar-coded shipper details , Supermarkets too.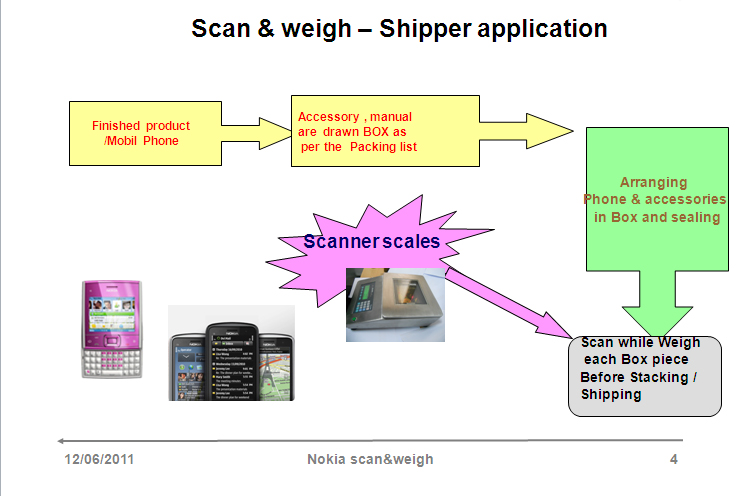 Features and Benefits
Rapid &Compact : Integrated — Scanner, Scale in a single enclosure saving valuable space and
process time
ROI : Convenient & Cost effective
MIS : Shipping details and reports
Specifications
Description : SI 810- Horizontal scanner Scale
Capacity : 3kg X 1
Weigh area : 125mmmX210mm
Scanner: Horizontal Single plane
Scan Area :Horizontal
Motor Speed: 6000rpm
Read height: 15cm/6 inch
Reading Indicator : Beep